Labrador Current Volume Transport
Select a track from the list below. Product is available from 1992. Tracks formerly numbered 24, 96 and 113 are now known as 48, 191 and 226.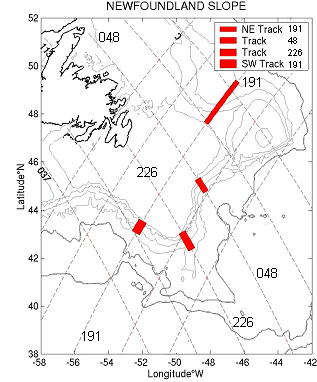 References:
Han G. and Li J. 2008. Sea level and geostrophic current features from tandem TOPEX/Poseidon-Jason data in the Newfoundland offshore. International Journal of Remote Sensing, 29(1), 265-280.
Han G. 2006. Low-frequency variability of sea level and currents off Newfoundland, Advances in Space Research, 38, 2141-2161, 2006.
Date modified: